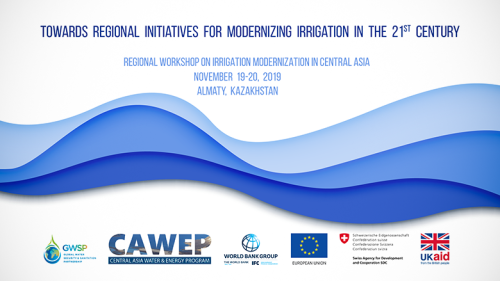 Central Asia: Towards Regional Initiatives for Modernizing Irrigation in the 21st Century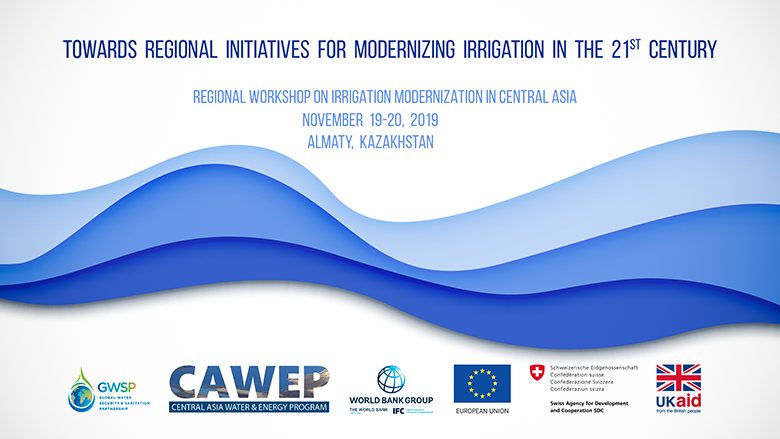 November 19-20, 2019
Almaty, Kazakhstan
About
Irrigation will continue to play a critical role in food security, job creation and fuel growth in Central Asia in the mid-term. Rainfed agriculture is not feasible and, given that irrigated agriculture is, on average, at least twice as productive per unit of land compared to rainfed farming, this provides an important buffer against increasing climate variability, and allows for more secure crop diversification.
It is certain that irrigation will continue to play a key role in ensuring regional food and nutrition security; however, countries are facing a number of challenges in the sector, including low irrigation efficiency, aging facilities, and high operating cost.
The emerging imperative is to modernize irrigation systems moving from supply-oriented water delivery to demand-oriented water delivery, to improve water productivity. Mere rehabilitation is not enough. Farm characteristics have been changing from large collective farms to smallholdings for individual farmers.
Moreover, there has been a change in response to market demands, where cultivation has started to shift from "monoculture" crops to a diversification of crops oriented towards high-value crops.
The main objective of any irrigation modernization program should be to undertake both technical and managerial upgrading to improve both resource utilization and water delivery service to users. On-farm irrigation improvements will only realize their potential when adequate water delivery (flexible, reliable and equitable) is provided to the user from the main system.
Objectives
Participants at the workshop will:
Learn from the findings of stocktaking, international experiences of irrigation modernization and research institutions and universities in the region;
Discuss potential private sector involvement;
Discuss possible irrigation modernization in each country as next steps; and
Build networks to help countries towards irrigation modernization.
Participants
Workshop participants include policy makers, practitioners from irrigation administrations, scientists and researchers from research institutes and universities, representatives of water user/consumer associations, from the five Central Asian countries of Kazakhstan, Kyrgyz Republic, Tajikistan, Turkmenistan, and Uzbekistan. Other participants include private sector and development partners.

The workshop is funded by the Central Asia Water and Energy Program and Global Water Security and Sanitation Partnership.